Why I was seduced by history
I was seduced by history by my history, if that makes sense. I was born in Illinois, and for the first seven years of my life my family lived either with or across the alley from my paternal grandparents. And my material grandparents lived in the next little town a whole seven miles away.
We went back to Illinois every summer until after I graduated from high school. I spent those summer sitting on the front porch at the family reunions with tons of aunts, uncles, cousins, grandparents and great aunts and uncles, second cousins – you name it, they were there. And they all talked about when they were kids, or told the stories they had heard from their parents.
So I always knew my family's histories, and where I fit into the scheme of thing (luck me!). So I grew up hearing the stories of my ancestors told of growing up in the 19th century, or with Indians, or wild animals, or the weather. Going to school, it seemed a logical choice to study history – because it just to story of people.
And teaching history lead me to the writing of historical romance. Researching this historical periods is easy and a lot of fun for me. When I write, I like to think that the characters I'm writing about lived just down the lane from my ancestors.
This was especially true when I wrote my first book, Kentucky Green, I used a lot of thing I remembered from my family's stories in this book. One was my great grandmother's dislike of soft butter, so my grandmother chore as a little girl was to walk down to the spring house where the butter was stored and bring it up for each meal.
I also have a scene where my heroine is churning butter, which was another of my grandmother's jobs, so I had my heroine use the same rhyme that my grandmother used.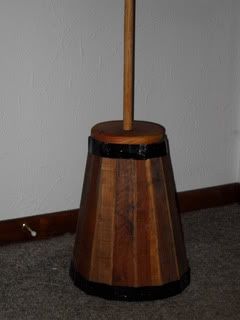 "Come (up) butter (down), come (up).
Come (down) butter (up), come (down).
Little Peter (up) at the gate (down), for his buttered (up) bread does wait (down)
Come (up) butter (down), come (up).
Writing historical allows me to keep the past alive, for me, and hopefully for my readers.
Why were you seduced by history? Family? A favorite teacher? Or just lucky?